Personal Use
Scenario 1. Imagine if all of your personal documents - your Harvard degree, professional qualifications etc. were destroyed due to fire, flood or other disaster. The amount of time, effort and cost to replace everything is huge and for some documents there might be substantial penalties.
Scenario 2. You have a lot of money, and you want to make a will and testament. But it's stolen or damaged...yikes! And there are so many other unfortunate situations that might happen.
What if we told you that we have a solution? You guessed it - NFTDocuments.com is the solution that can prevent those unfortunate situations and give you peace of mind. NFTDocuments.com offers the opportunity to securely upload and store all of your important personal documents, professional qualifications, educational qualifications etc. to the blockchain as NFTs. Currently, we are working with both Ethereum and Solana as these two networks are the most popular and have the necessary infrastructure.
Personal Documents
Notary Act
ID Card
Passport
Will Testament
Insurance Policy
Professional Qualifications
Certificates
Diplomas
Awards & Honoraries
Academic accreditations
Licenses
Educational Qualifications
Secondary Education
Special Education
Bachelor's Degree
Master's Degree
Doctoral Degree
NFT Business Agreements
If you are a business owner or manager and have active communication with counterparts worldwide, what could go wrong with your documentation and business agreements with them?
In fact, a lot…
Today's business documentation is exposed to risks that many of us might overlook:
Paper document storage that could delay finding what you want or be physically damaged
Infrastructure that is secured with low level IT that could expose your files to unauthorized access
Current business software tools are already outdated in the dawn of the Metaverse reality.
Using our NFT Document business services, your company can benefit from the following:
no physical harm can affect your documents
accessible from anywhere in the world
stored in a secure NFT-based blockchain system using IPFS technology
available to be shared with whoever you choose
We are here to bring your business documentation to the next level.
You can transform your existing physical documents into digital ones or use templates to create new documents based on your own specifications and requirements.
| | | | |
| --- | --- | --- | --- |
| Trade | Trade | Production | Services |
| Lease agreement | Lease agreement | Rent Agreement | Sales contracts |
| Incorporation act | Incorporation act | Annual reports | Others |
Choose the right NFT infrastructure for your needs
We understand that everyone has different needs, so we have decided to support both the Ethereum and Solana for NFT documentation minting. This way you can choose between a high usage with high minting price or medium usage with low minting price.
Using Ethereum
Let's start with the network which created NFTs in the first place. Ethereum has been known as the network with the highest number of developers in the blockchain industry and the network which gives life to the majority of new ideas and use-cases in the industry. NFTs were first developed back in 2017 to create unique and verifiable tokens which represent real-world or online assets. The idea initially revolved around collectibles but quickly outgrew this scope as users explored all sorts of potential use cases such as documentation, music, art, games, and much more.
We have chosen to focus and specialize in NFT documentation. Most businesses entering the crypto industry prefer to use Ethereum since it is the network with the highest uptake and greatest usage by both businesses and clients. That being said, right now high usage is a double-edged sword. Minting and sending NFTs on the Ethereum network can be expensive to mint or transfer an NFT - it varies between $30 and in some cases can be as much as $150.
Using Solana
And here is where Solana comes into play. The network has been growing in the past two years and has attracted many users and developers because it is a much cheaper option than Ethereum while still providing a good NFT infrastructure. While the network has chosen to partially sacrifice decentralization compared to Ethereum, it has definitely gained ground when it comes to scalability and transaction costs in most cases. For example, minting an NFT document on Solana costs a few cents, and sending the said NFTs costs less than one cent.
IPFS is your future NFT file cabinet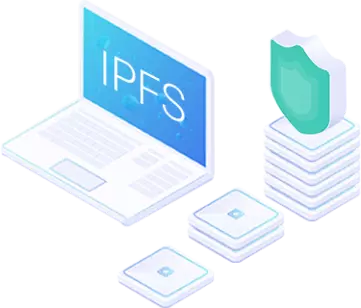 Many people new to NFTs tend to forget there are two parts of the NFT - the code embedded in the blockchain, and the other is the data that we consume either visually or aurally. Storing file data of this size on the blockchain is far too expensive and impractical, so it's where you store it that makes all the difference.
With the risk of losing expensive and exclusive NFT assets due to cloud or local server failures, people resort to the IPFS. Files uploaded are tagged with a unique Content Identifier (CID) and are categorized and resourced based on their content, not the location at which they are stored. Every use of the file creates a cached copy and thus a new location where the file can be found. With options and services to ensure that data exists indefinitely on the decentralized IPFS, many call this the foundation of Web 3.0 and the future of NFT storage solutions. We think your NFT documents will be right at home on the Interplanetary File System and much safer than physical copies.
Our Team
Our team is backed up by decades of experience in different professional fields, and what unites us is our passion for everything blockchain and NFT.
We believe in the power of NFTs, and that's why we are focused on providing solutions to many problems that individuals and business owners have. Our mission is simple yet powerful - to make it easy for everyone to securely store their most important documents on the blockchain network in the form of NFTs.
Take a look around and start storing your documents safely and securely with us.
Frequently Asked Questions
To cover even more ground here, we have the answers to a few of the most frequently asked questions. If you want to know more about what we do, you can check out here.
How much does it cost to mint documents as NFTs?
It depends on how much the networks are congested and how many documents you try to mint at once. As we mentioned above, Ethereum usually costs between $30 and $150 on average to mint an NFT, while it takes a few cents to do the same on Solana.
Can you fake NFT documents?
Not exactly. When minting an NFT, the blockchain records very specific information such as:
Which address minted the NFT
The date and time of the minting process
To whom it belongs; which smart contract address was used to create the asset and
What the NFT represents as information.
Once the minting process has been completed, there is no way to change the already created token or modify it. The only thing you can do is either send it to another address or destroy the NFT by sending it to 0x000000000000000000000000000000000000dEaD.